Telephony System (Traditional / VOIP)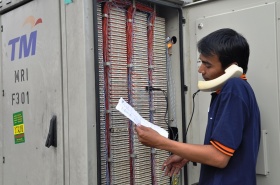 A modern telephony system or keyphone system is a multiline telephone system typically used in small office environments. Key systems are noted for their expandability and having individual line selection buttons for each connected phone line, however some features of a private branch exchange such as dial able intercoms may also commonly be present. At NVDS, we provide installation, consultation, and service for Panasonic, Toshiba and NEC system.

VOIP (Voice over IP) is generally a new telephony technology using IP networks such as the internet to deliver voice service. This is a big advantage to organization because the system generally does not have to pass over traditional PSTN network, hence saving a lot in terms of call charges. Companies normally can save up to 80% in call charges monthly due to the technology itself that converts analog signal into digital to pass over broadband network. In an advance configuration, this service not only support voice calls, but also video calls, users can see each other via the telephone sets that comes with built in camera and screen. Apart from that, another advantage in using this system is users get to call each other free of charge if they are located in the same network environment. This is really useful particularly in big organizations that have numbers of site offices or retail outlets scattered in the country.
This technology is certainly the way of future and slowly but surely being adapted in many organizations in Malaysia.