NVDS AFIS / smartcard identification system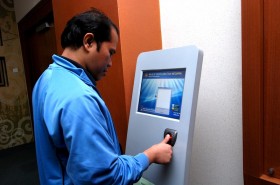 NVDS AFIS (Automated Fingerprint Identification system) is a propriety product from NVDS Technology. This system is robust and highly customizable to be used in either private or governmental use. Main application for this system is to identify users in accessing sensitive and highly restrictive area.
Apart from that, we can also implement this system as employee attendance system. This system requires employees to swipe their fingerprint to register in the system, so that company will be able to track their employee's attendance as well as their movements and whereabouts. In addition, this system also allows check and balance between supervisors and their subordinates where we provide modules for employees to input reasons if they are late for work, thus allowing transparency between organizations and their staffs. Furthermore, we also include modules for overtime work calculation so that this system can be linked to HR and accounting department.
In terms of hardware, we use SAGEM biometric which is an international standard with 99% accurateness in indentifying users .This is important when companies and government normally stores important data and information in their premises. Currently, our product is being used in MKN (Majlis Keselamatan Negara) in the prime minister department.