LAN/WAN/WLAN/FIBER OPTICS/TRUNKING/RACEWAY/PIT/ CABLING SERVICES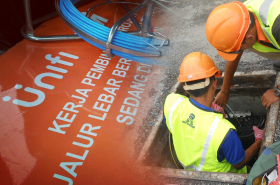 At NVDS Technology Sdn. Bhd, we realize that fiber optics is the future technology in establishing high connectivity data transfer between computer devices. In 2010, the government has announced an investment of RM2.4 billion over 10 years in building fiber optic infrastructure across Malaysia. In realizing this, we can't ignore the potential of the business and decided to go into the business and give our best effort in providing an excellent service to the industry.
Moving forward, we have trained and retrained our skilled and dedicated staffs in doing fiber optics works accross Malaysia. Under the guidance of our head of technical team Mr. Mohd. Jefri, we have done countless jobs with every Telcos in Malaysia, for example Telekom Malaysia, Maxis, Time Broadband and others. Apart from doing installation works, we also provide an all round solutions to independent civil contractors, our services include designing infrastructures, Fiber optics product supply, fiber optics jointing and testing (splicing and Termination), on call emergency response, as well as  Installing and refurbishing works for raceway (trunking) and install new manhole covers among others.