Information Technology Services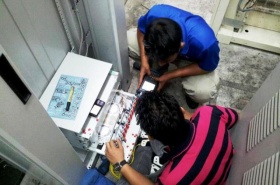 On-Site Business Outsourcing Services
NVDS Technology is your complete source for information technology services. Whether you want full-service outsourcing or have an occasional need, we have the expertise and know-how to do the job right. We work with clients of all sizes and types who have widely-varied needs. Sample client relationships include:
One-Time Job
We provide IT support services to companies on any IT related issues, our rate is RM100 per hour and our minimal fee is RM300 at one time. We go to client premises and provide best solutions in the fastest way as possible.
Software / System Support
We have a separate dedicated programming team to support any information system related support. We only offer this service on yearly contractual basis as our team need to analyze and audit the entire network system in order to study the systems that are currently used by that organization. Generally, we do support on website maintenance, e-commerce systems, Email servers, firewall systems, Database Management, Lotus notes, Microsoft exchange server.

Full-Time Outsourcing
In full time it outsourcing service, we manage the entire IT infrastructure of the organization, including other branches which might have. We will allocate our fully skilled staff on site of the organization and they will manage, maintain and support whatever issues arise in a certain time. Apart from that, our staff on the premise will be supported by our specialist located in our office HQ in dealing with difficult and problematic issues. This service is only available by yearly contract basis.
On-site Home /small office Outsourcing Services
With our online retail arm, itmurah.com, we also provide onsite IT services for SOHO as well as residential customers. We have 2 different packages for our clients, namely month by month basis or onetime fee. We charge nominal fee in between rm35-rm50 per hour rate (depends on job scope) or lump sum of RM250 per month. Our service is available from 9am to 10pm daily, 7 days a week.