ICT, FTTH, Structured Cabling Consultation And Engineering Solutions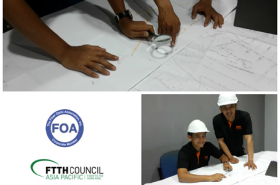 NVDS is members with 2 of the biggest International Fiber Optic Organization in the world, namely the Fiber Optic Association and FTTH Council Asia Pacific. We are qualified consultant company with 7 years of experience in Fiber Optic design, deployment and installation. Our main capability is at the last mile installation as well as with outside plant. We are experienced in working with Telcos in Malaysia and involved with HSBB (High Speed Broadband) installations across Malaysia.
 With our advantage as penal members with the associations, we are always well informed on new technologies available in the market. Our managers, engineers, and technicians have the capabilities to provide the best IT outsourcing partners to our Clients and partners. Below are our core competencies:
Multi-site networks using ATM, Frame Relay, IP, Private Line, and Wireless technologies
Internet Protocol (IP) Virtual Private Networks (VPNs) using L2TP, PPTP, and IPSec
FTTH design and Consultation Services
Last Mile installation and deployment
Fiber Optic CCTV (Closed Circuit television) design
Fiber Optic Relay and Loop Configuration
Internet Service Provider (ISP) and Wireless Internet Service Provider (WISP) business planning, network design, deployment, management, and growth
Wi-Fi HotSpot deployment, including authentication, security, and billing
Disaster Recovery &  Prevention
Storage systems
Mail Server (Microsoft Exchange, IMAP, POP, and SMTP) management and maintenance, including virus, SPAM, and abuse mitigation techniques, and mail service outsourcing
Web Server management, maintenance, and outsourcing
Domain Name Service Server management, maintenance, and outsourcing
File Server management and maintenance
Microsoft SQL Database design, management, maintenance, and outsourcing
Systems Integration and Automation in Linux, Windows, and Mainframe environments
Voice over IP (VoIP) network design, installation, and integration
Security assessment and analysis, active security detection and response
Network monitoring with technician response and/or alert notification, 24 hours a day, 7 days a week, 365 days a year
End-user helpdesk support services.